Burleigh Murray State Park is a small and relatively recent addition to California's State Park system. Originally the site of a working ranch on the outskirts of Half Moon Bay, it is now known as one of the best locations for butterflies in the San Francisco Bay area. Featured species include Margined [Mustard] White, Two-banded Checkered-Skipper, and both Satyr and Oreas Commas.
Getting there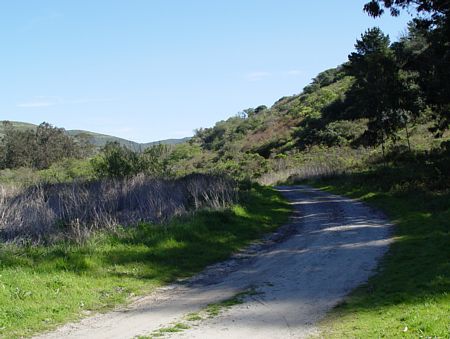 From Highways 101 or 280 (the two major north-south arteries of the San Francisco Peninsula), take Highway 92 west towards Half Moon Bay. Where it ends at Highway 1, turn left (south). After 1.2 miles, turn left (east) onto Higgins-Purisima Road. 1.6 miles later, turn left into the small dirt parking lot for Burleigh Murray State Park.
When to go
Burleigh Murray is at its best from March through June, but is worth visiting year-round on any suitably warm and calm day. But be forewarned: this is less than three miles from the Pacific Ocean, and the weather here is notoriously unpredictable. Any day, even mid-summer, can greet a butterflier with cold, foggy, and windy weather. When that happens, head back east over the coastal range towards San Francisco Bay, where the weather might be entirely different.
Other wildlife
Interesting birds of the park include MacGillivray's Warbler, Red-breasted Sapsucker (uncommon), Allen's Hummingbird, and Wrentit. Bobcat is regularly seen. (If you've identified any interesting dragonflies in the park, please .)
Exploring the park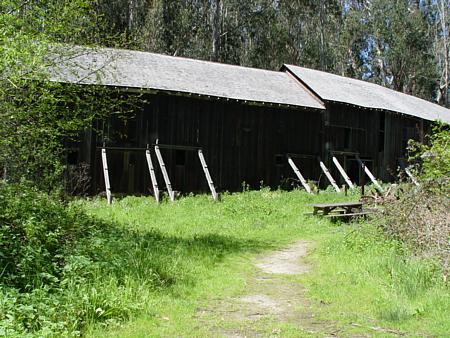 The park has only one trail, which follows a willow-lined creek for about two miles up into the hills along a gradual incline. Halfway up the hill, you'll find the remaining buildings of the ranch. Be sure to explore the area around the barn before continuing higher up. The trail becomes narrower (and occasionally overgrown) as it continues to climb. This upper section is usually the most active, with a constant stream of crescents and buckeyes, as well as all of the specialities of the park. Once you've reached the large water storage tank, you're more-or-less at the end of the trail.
Species list
Species are followed by their abundance and a range of months. The months are conservatively listed, restricted to confirmed records from this park. If you have any additional records, please .
Swallowtails
Anise Swallowtail (Papilio zelicaon)

Rare 3

Western Tiger Swallowtail (Papilio rutulus)

Uncommon 4-6, 8

Pale Swallowtail (Papilio eurymedon)

Rare 4-5,7
Whites and Sulphurs
Margined [Mustard] White (Pieris [napi] marginalis)

Common-Abundant 2-7; Rare 9-10

The fall dates are not mentioned in any literature, but were noted by two separate observers in 2002. Dr. Jerry Powell has seen a similar third brood in some years in Marin.

Cabbage White (Pieris rapae)

Uncommon 2-3,8-11

Sara Orangetip (Anthocharis sara)

Common 3-5

Orange Sulphur (Colias eurytheme)

Rare 3, 9
Coppers, Hairstreaks, and Blues
Brown Elfin (Callophrys [Incisalia] augustinus)

Uncommon, 3

Echo [Spring] Azure (Celastrina [ladon] echo)

Abundant 2-3, Common 6-7, 1 seen 12/18/2003

Acmon Blue (Plebejus acmon)

Uncommon-Common 2/22,5-8,10-11/1
Brushfoots
Northern Checkerspot (Chlosyne palla)

Rare, 3/29

"Chalcedon" Variable Checkerspot (Euphydryas chalcedona chalcedona)

Uncommon, 6-7

Field Crescent (Phyciodes pulchella (syn. campestris))

Abundant, 3/6, 3/29-11

Mylitta Crescent (Phyciodes mylitta)

Abundant, 2/22-4,6-7,9-11

Satyr Comma (Polygonia satyrus)

Common 1-12

Oreas Comma (Polygonia oreas)

Uncommon, 2-3,6,9-11

California Tortiseshell (Nymphalis californica)

Uncommon, 2-3

Mourning Cloak (Nymphalis antiopa)

Rare, 3

American Lady (Vanessa virginiensis)

Uncommon, 3, 7, 10-11

Painted Lady (Vanessa cardui)

Rare 11/1/2003

West Coast Lady (Vanessa annabella)

Common, 3-5, 9-11

Red Admiral (Vanessa atalanta)

Uncommon, 1,3-11

Common Buckeye (Junonia coenia)

Common 2-3, 5-7, 9-11

Lorquin's Admiral (Limenitis lorquini)

Common 5-10

California Sister (Adelpha bredowii)

Rare, 10/16/03

"California" Common Ringlet (Coenonympha tullia california)

Common 3/29-7, 9-11

Monarch (Danaus plexippus)

Uncommon 3-4, 12
Skippers
Two-banded Checkered-Skipper (Pyrgus ruralis)

Uncommon-Common 2/22-7

Fiery Skipper (Hylephila phyleus)

Uncommon 11

Sachem (Atalopedes campestris)

Rare 9-10

Woodland Skipper (Ochlodes sylvanoides)

Abundant 7, 9-11

Umber Skipper (Poanes melane)

Uncommon 6, 9-11